When it comes to hanging planters, many people prefer a natural look. You can choose from a variety of woven baskets as well as macrame plant hangers.
Plus, you can now get durable resin hanging baskets that feature a "woven" design. So, which one do you choose?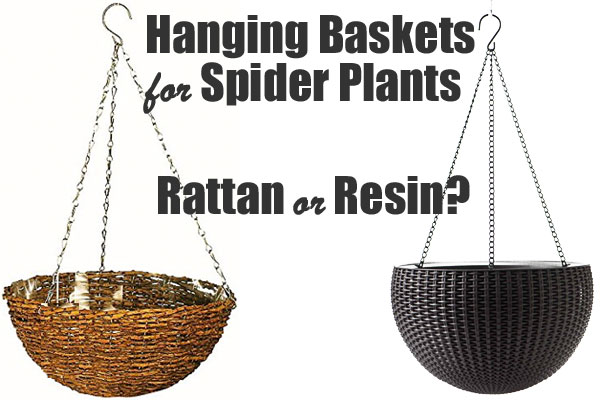 Although the best choice for you comes down to your personal preference, each style has its own benefits. Let's take a look…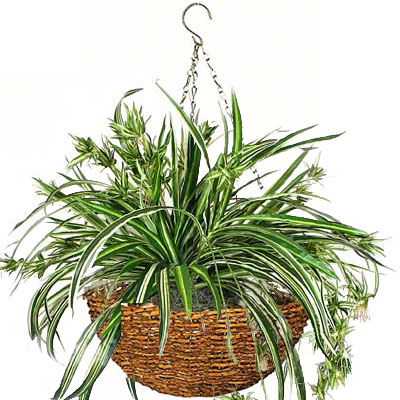 First of all, the rattan hanging basket contains natural fibers woven around a strong, galvanized steel frame. Therefore, it's more durable and long lasting than it may appear.
In addition, the container has a plastic liner on the inside, which helps retain water. This feature keeps plants hydrated while also extending the lifetime of the surrounding woven fibers.
Compared to the more modern and contemporary resin basket below, I think the rattan version looks more natural and rustic.
Rattan Spider Plant Hanging Basket:
Dimensions: 14″ Diameter x 7″ Deep
Weight: 1.3 lbs
Model #: R450
Manufacturer: Gardman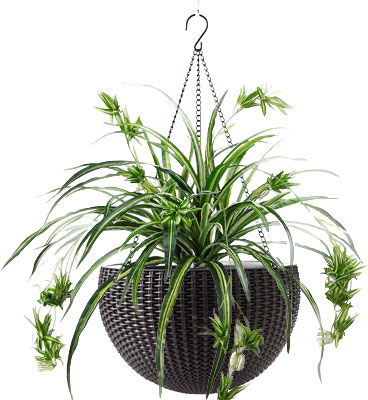 As I mentioned above, this spider plant hanging basket has a cleaner and more contemporary style.
Propylene resin construction gives this "faux basket" a lightweight yet highly durable design. The color will not fade, the container will not crack easily and the surface is extremely easy to clean (if needed).
Whether you use this planter inside or out, the finish will stay looking new for a long time.
Instead of a plastic liner, the bowl has an inner seal with a detachable drainage plug. This is useful because you can use this hanging planter indoors as well as outside.
Similar to the basket above, the package comes with 3 sturdy chains and a hook with which to hang the planter securely.
Resin Spider Plant Hanging Basket:
Dimensions: 13.8″ Diameter x 8.7″ Deep
Weight: 5.1 lbs
Model #: 221486
Manufacturer: Keter
In short, rattan has a natural, rustic appeal. It also costs less. On the other hand, resin stands up to weather quite well and requires minimal maintenance and upkeep to stay looking new. However, you will pay more for these features.