Head shaped planters make a great way to display your spider plants. They can add style, symbolism and even humor to your backyard or entryway.
Most of these pots for sale are designed to be used outdoors. However, you can use them indoors as well as outside, since they can create a focal point to any mantel, table or credenza.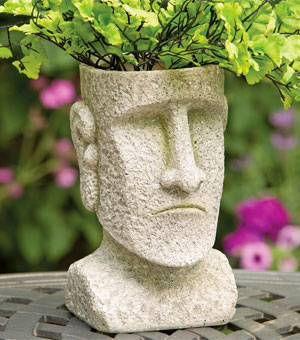 Easter Island Stone-Like Planter
Whether your garden has a tropical theme or you simply like the look of island masks, the Easter Island Planter adds a unique touch to any backyard.
Although the face looks like stone, the pot actually is made of durable polyresin. It only weighs about 2 pounds!
Even though it weighs less, this faux stone scupture will stand up the outdoor elements, plus it looks very realistic.
Dimensions: 8.75″ tall x 5″ wide
Top Opening: 4″ diameter
Drainage Hole: Yes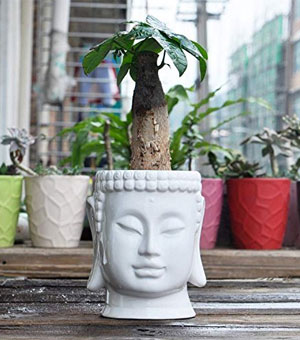 Ceramic Buddha Had Planter
You don't have to meditate or do you yoga to enjoy buddha sculptures. The position or pose of the Budda's body will signify a certain meaning.
However, a buddha face planter can represent anything you want, or nothing at all.
Dimensions: 9″ tall x 8.2″ wide
Top Opening: approx 7.5″ diameter
Drainage Hole: Yes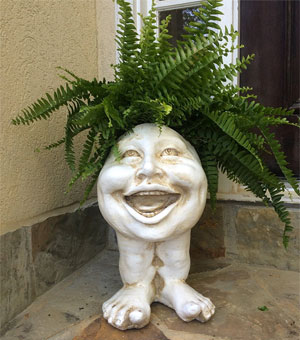 Aunt Minnie Laughing Face Planter
This face-and-legs flower pot makes a great first impression at the front door. It makes a great conversation piece.
Not only can you enjoy the front-side facial features, but the backside is humorously sculpted as well.
Just like the Easter Island planter, this one also has a weather resistant strong plastic resin construction.
Dimensions: approx 17″ tall x 13″ wide
Top Opening: 6″ diameter
Drainage Hole: Internal Drainage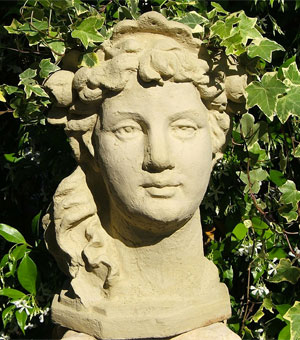 Designer Stone Lady Head Planter
Whether you like Greek mythology or want a vintage look, this picturesque goddess planter makes a good fit. The cast stone design makes it heavy duty, and also heavy. It weighs 44 lbs.
Dimensions: 17″ tall x 12″ wide
Top Opening: 6″ diameter
Drainage Hole: Yes